| | | | |
| --- | --- | --- | --- |
| jDownloads v1.8.1 Beta Build 814 Published! | | | |
Written by Administrator
Friday, 26 November 2010 00:00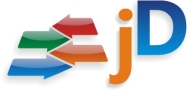 Here is the next beta release from jDownloads 1.8.

It is not recommended to install this release on a productive Website.
For installing the new release, use the Joomla Installer. It is not necessary to deinstall first the old version. Nothing data are losed. But make sure that you has a Backup from your Database.
It is recommended to update your prior beta to this version.

Fixed in this release:

It was not possible for Administrators to edit ALL downloads in the frontend
It was not always viewed ALL categories for Administrators in the categories select box
Problems with a few input fields when Magic Quotes was activated in php.ini
Not valid language definition fixed in en-GB language file
The footer was not correct viewed, when you has defined for this site a separatly footer layout
more HTML fixes
Added in this release:
Also custom data fields are now editable in the frontend edit function
New sort order: Hits added for the frontend sort oder function
You can now insert a 'Up' Icon in the frontend header layout (Link to the upper category)
Many thanks at all helpers.


Download