| | | | |
| --- | --- | --- | --- |
| jDownloads 1.7.2 RC published! | | | |
Written by Administrator
Friday, 02 July 2010 00:00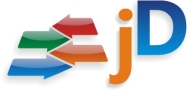 I have today published the new release 1.7.2 and it is very recommended to update to this new version.
New in this release:
You can now individual scan every category, when the auto monitoring is set off. So this is a better solution for users with many thousand files.
You can now select files from the download root folder to update download files
Specially for Users which publish Joomla extensions: It is now possible to fill automaticly the download data from the install .xml file in the archive file.
It is now possible to upload/select for every download three pictures
Bugfixes:
The problem with the multiple joomla module viewing is solved
Reorder function in categories list
and a few other little bugfixes.

Please update also all your installed jDownloads module and plugins to the last published releases. The translation team has until today eight language packages updated for the new release. Many thanks at all helpers.

Important: When you has downloaded this file: com_jdownloads_1.7.2_rc_build_762.zip, please download and install it new. The new filename is: com_jdownloads_1.7.2_rc_build_762b.zip. In the first file is a bug with the download folder creation. It is named: downloads but it must be: jdownloads. Sorry for my mistake.


Download